Up above, you will find links to the many different sections of the MONSTAAH website, and you can peruse the many informative areas of our official database.
On the subject of monsters, being informed is the equivalent of being forewarned and forearmed.


Note to visitors: This site was recreated by a program that is relatively new (Site Builder), and as a result, it still has several bugs to be worked out. A consequence of this is that a few web browsers, including Internet Explorer, are not very friendly for viewing this site, as several potentially distracting formatting errors will appear in the text on various pages that are actually not my fault, and which do not show up on other browsers. For viewing this site, I greatly recommend Mozilla's Firefox web browser, which is free to download and very user friendly on many levels.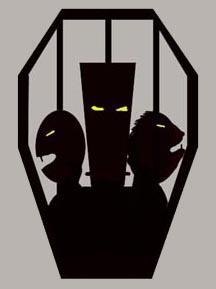 The Triumvirate of Terror